Woah, hold up.
The highly skilled migrant visa and the Blue Card… There are two ways you can hire international tech talent in The Netherlands?
It came as a shock to us too.
You've probably heard of the highly skilled migrant visa, as it's by far the most popular way of bringing non-EU developers, designers and product managers into The Netherlands. But the Blue Card also has it's advantages - and you don't need to be registered as a sponsor to use it.

So what exactly are these visas, how can you apply and which one should you be using?
We've created an e-book that explains the different application processes, how to become a sponsor and some all-important info about the 30% tax rebate.
Our guide to hiring international developers in The Netherlands also has an incredibly useful sources page (if we do say so ourselves), with links to all the application forms and official government websites you'll need to start hiring tech talent from outside the EU.
Feeling lazy? Check out our table below for a quick summary of the two visas.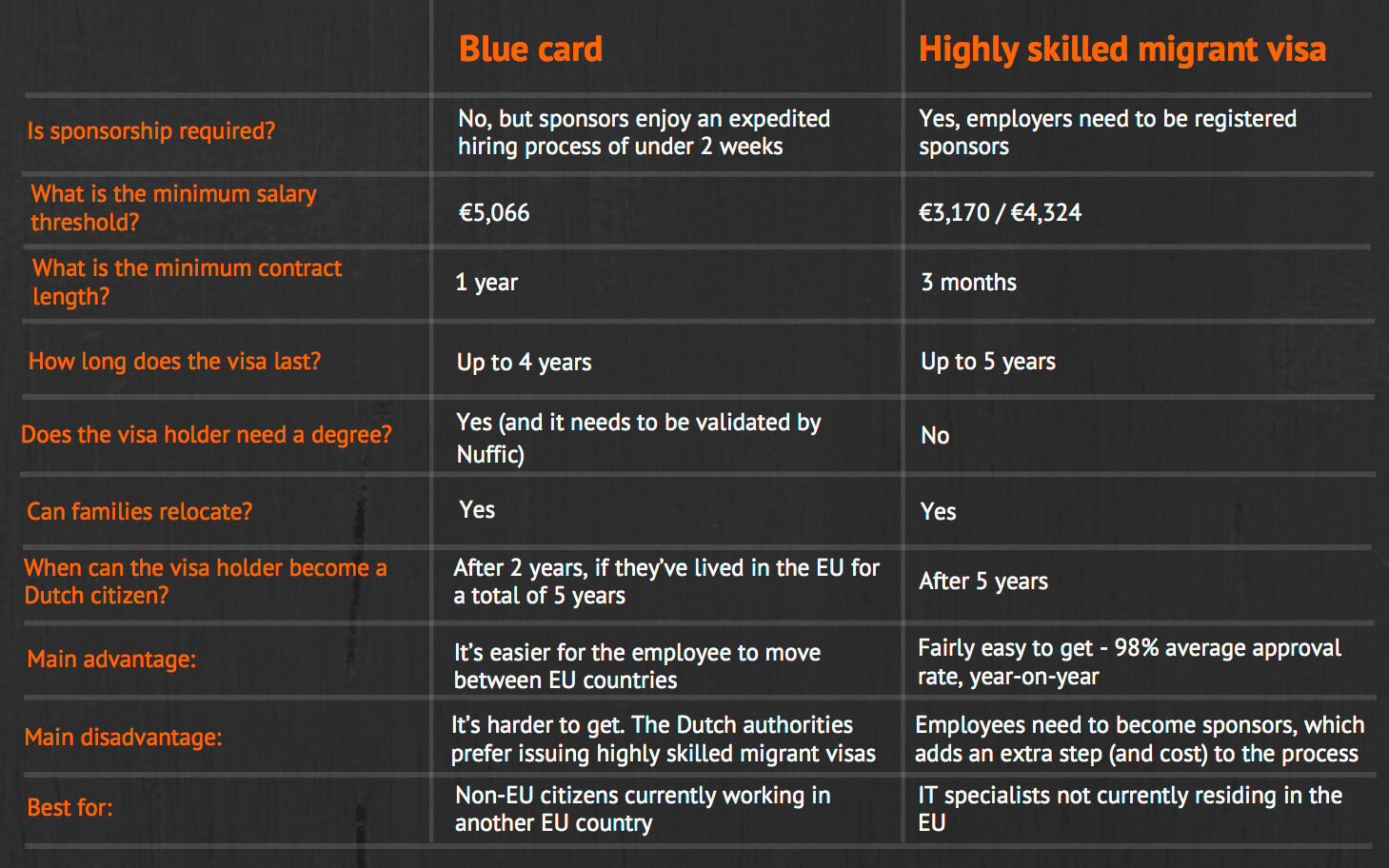 OK, so there are two visas. You get it. But why should you be looking to hire outside the EU in the first place?
Unless you've been enjoying an extended three year trip around the world, you'll know there's an acute shortage of tech talent in Europe. Growing demand from both existing industries and brand new ones (thanks, robotics), plus a strong economy, means that The Netherlands is facing a scarcity of IT professionals, and it's only going to get worse.
According to Andrus Ansip, the European Commission Digital Single Market Chief, by 2020 the EU could face a shortage of 800,000 IT specialists. That's a lot of backend systems, design work and agile processes that could be at risk.
As a result, startups are increasingly looking abroad to hire. International candidates have outstanding experience, EU-standard qualifications and a shedload of enthusiasm. Trust us, we place them with European companies every single day.

There's never been a shortage of international tech talent, but it's not always been easy to bring them into The Netherlands. Complicated systems and processes that are continually updated make it difficult for even the most proficient startups to know where to begin…
...which is why we've created an e-book with almost everything you could ever need to know about hiring international IT specialists!
If you have any questions about the application processes, becoming a sponsor or the 30% tax rebate - just shoot me an email: elisa@nederlia.com
Header image: Ket4up @ Shutterstock
Previous Post
17 November 2017