"Are you an expert hacker with 5 years experience in Node.JS? Do you have what it takes to work in Berlin's most exciting, fast-paced, high-powered startup? If you play as hard as you work, and want to round off another kick-ass day with free dinner and beers on the terrace, this job is for you. Beat the competition and apply below!"

If you use any of these words, your job descriptions might be putting women off.
How you speak to potential candidates – in engagement campaigns, on your careers page and in job descriptions, is having a bigger impact than you realise.
We're prepared to bet our next meal (or maybe just this afternoon's cinnamon roll) that you're doing at least one of these things in your job descriptions. If it makes you feel better, we've been doing them too!
Finding developers is hard. Almost as hard as finding a matching pair of socks at 7am in the morning. Finding female developers is even harder, but as they only make up 26% of the tech workforce (and bring loads of seriously important benefits) we need to do everything we can to balance our tech teams. Job descriptions aren't the only things that need to change, but they're a great place to start.
Here are 8 things you can change in your job descriptions right now that will help you find and hire more women in tech.
1. Stop looking for rockstars
Masculine words like "rockstar", "ninja" and "hacker" are, unsurprisingly, not appealing to women. Overly-masculine words imply an overly-masculine culture, and that's off-putting, not only to women but to all minority groups. The other word to be aware of is "expert". Imposter Syndrome (though it sounds ominous) is pretty common, especially for women who work in male-dominated industries.
We've pulled out the most obvious words, but there are hundreds! Run your job descriptions through this mind-blowingly amazing tool (that also happens to be free) to check whether they're gender neutral.


Images taken from Storify
2. Look for collaborative team-players instead
If you actively want to hire more women (without positively discriminating during the interview process), include more female-friendly language.
Sure, removing "kick-ass" from your job descriptions is going to help. Massively. But including phrases that show you have an open, inclusive culture that supports learning and encourages collaboration over competition will do even more to attract female candidates. Research has shown that words like "adaptable" and "creative" attract more women, whereas "ambitious" and "assertive" appeal more to men. Disclaimer: using words is not enough, your culture might need to change too!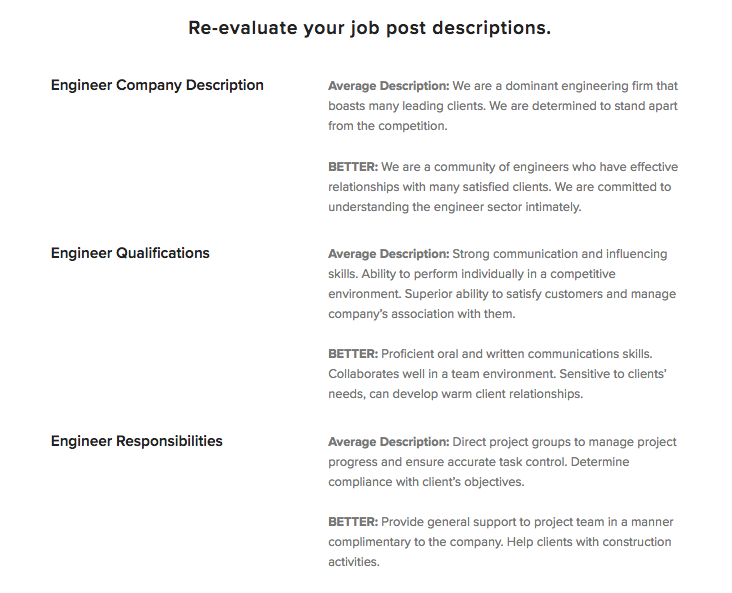 Image taken from Hire More Women in Tech
3. Adopt a "growth mindset"
A growth mindset? We hadn't heard of it either.
When Textio analysed their database of 50 million job descriptions, they found that roles written with a "growth mindset" ("loves learning", "seeks challenge") rather than a "fixed mindset" ("the best and brightest," "top-tier talent," or "high performer") were twice as likely to be filled by women. Interestingly, roles advertised with "fixed mindset" job descriptions were filled 11% more slowly than other roles, as both men and women were less likely to apply.
The "pipeline" is a huge problem for the tech industry. Women aren't studying computer science at university or taking up tech opportunities at school, so there are less female postgraduates to recruit. As a result, women are less likely to have a traditional background, computer science degree or as many years experience, but if you have development programmes in place, dedicated, motivated workers can learn new programming languages in no time.
4. Minimise essential requirements
Time after time, research has shown that women only apply for jobs if they meet 100% of the requirements, whereas men apply if they meet 60%. When we spoke to women in tech to see what startups need to change, they agreed.
As part of our Women in Tech campaign, we asked 74 women who work in the industry about their personal experiences and what needs to change. Several had experienced a lack of confidence and had even felt reluctant to apply to a job if they hadn't met all of the criteria.
One easy way of getting around the issue is minimising the number of "requirements" in job descriptions. Think about splitting them into "essential" and "desired" or – even better – removing any that aren't absolutely crucial and focusing instead on the type of person you want to hire and how you'll help them grow in the company. It's that "growth mindset" again.
5. Focus on diversity (and mean it!)
Understandably, women in tech often look for signs that companies support and encourage diversity.
If you're actively championing diversity, shout it from the rooftops! Include a sentence or two in your job description to promote the great work you're doing or a link to a diversity statement on your website. If you don't yet have diversity policies in place, clearly state that you're actively seeking applicants from candidates of all backgrounds.
6. Stop encouraging "forced fun"
Not everyone drinks beer. It's a shocker, i know. Working in Barcelona, where there are 300 sunny days a year and a big terrace culture, offering potential employees free beers on the company's terrace seems like a no-brainer, but the responses we received from women in the industry made us think about whether it's always the best image to present to candidates.
Startups' "work hard, play hard" culture is changing as the tech industry becomes more diverse, but historically social activities and "perks" have taken place after work – possibly partly because industry leaders (let alone the majority of employees!) are under 30. It can be hard for older employees or mothers with children to say no, as they risk missing out on facetime with senior managers or crucial networking opportunities.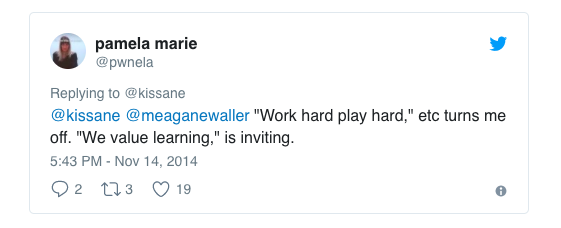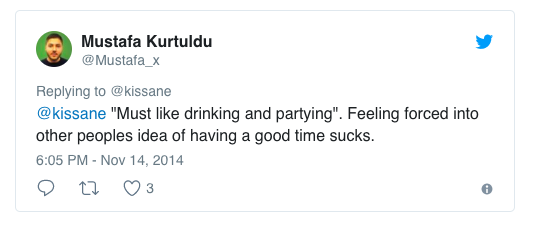 Images taken from Storify
Perks such as a free dinner or drinks after work can actually give the impression employees are expected to be in the office for long hours and that the company isn't flexible. They can also contribute to the idea that new employees must be a good "cultural fit" (i.e. similar to existing employees). Unfortunately, as we are hire people who are like us, a good "cultural fit" is more likely to mean young, male and white – and women know this. And encouraging workers to relieve stress by "playing hard" only reinforces a toxic masculine culture.
7. Include family-friendly policies
76% of the women we spoke to believe startups should include policies such as maternity leave and flexible working in job descriptions and on careers websites, and discuss them openly during the interview process. That's a huge percentage, and for many respondents it was the most important factor when applying for a job.
Startups need to prioritise "transparency for salaries, maternity leave, health insurance, and other company policies which will encourage women to pursue a career and motherhood."
"I think that they should offer more support to mothers, with extra maternity leave and facilities."
Startups should "offer better compensation for families and help with tasks and online tests."
"There are certain aspects of jobs that the tech industry could focus on if they'd like to appeal to more women. For instance, a woman with children is probably going to value flexibility and the option to work from home."
Lots of startups have incredible benefits for parents, but don't think to mention it on job descriptions. If that's the case, it's easy to fix. And if you don't offer flexible working, the opportunity to work part time or remotely, or fair maternity and paternity policies, make it a priority in 2018.
8. Behaviours v characteristics
One final, pretty interesting point we came across in our research… The words used in job descriptions not only influence candidates but can also influence recruiters' decisions. Certain characteristics conjure up pre-conceived images – so candidates won't apply if they don't think they match the image, and recruiters will be more likely to judge potential candidates against preconceived assumptions.
It's easy to change – just think about swapping characteristics for behaviours.
For example:
Change "results-driven" to "ability to take initiative and produce results"

Change "people-person" to "ability to collaborate effectively with a talented team"

Change "action-oriented" to "ability to suggest and carry out practical actions to deal with issues"
Let us know if you've made any changes to your hiring processes or job descriptions in order to hire more women in tech – and whether you've seen results!
In the meantime, check out the results of our research to see what women working in the industry had to say about these issues.