Coding isn't everything.
Wait, what?
An overflowing GitHub repository and never-ending fluency in frontend and backend languages is sought-after by startups. But so is being able to work in a team, focus on multiple projects without losing focus, and communicate feedback to a bunch of non-technical clients.
Regardless of whether a developer speaks PHP or Ruby, these 10 soft skills will determine whether they flourish or flounder in their new role.
Do your developer candidates have what it takes to become your next superstar programmer?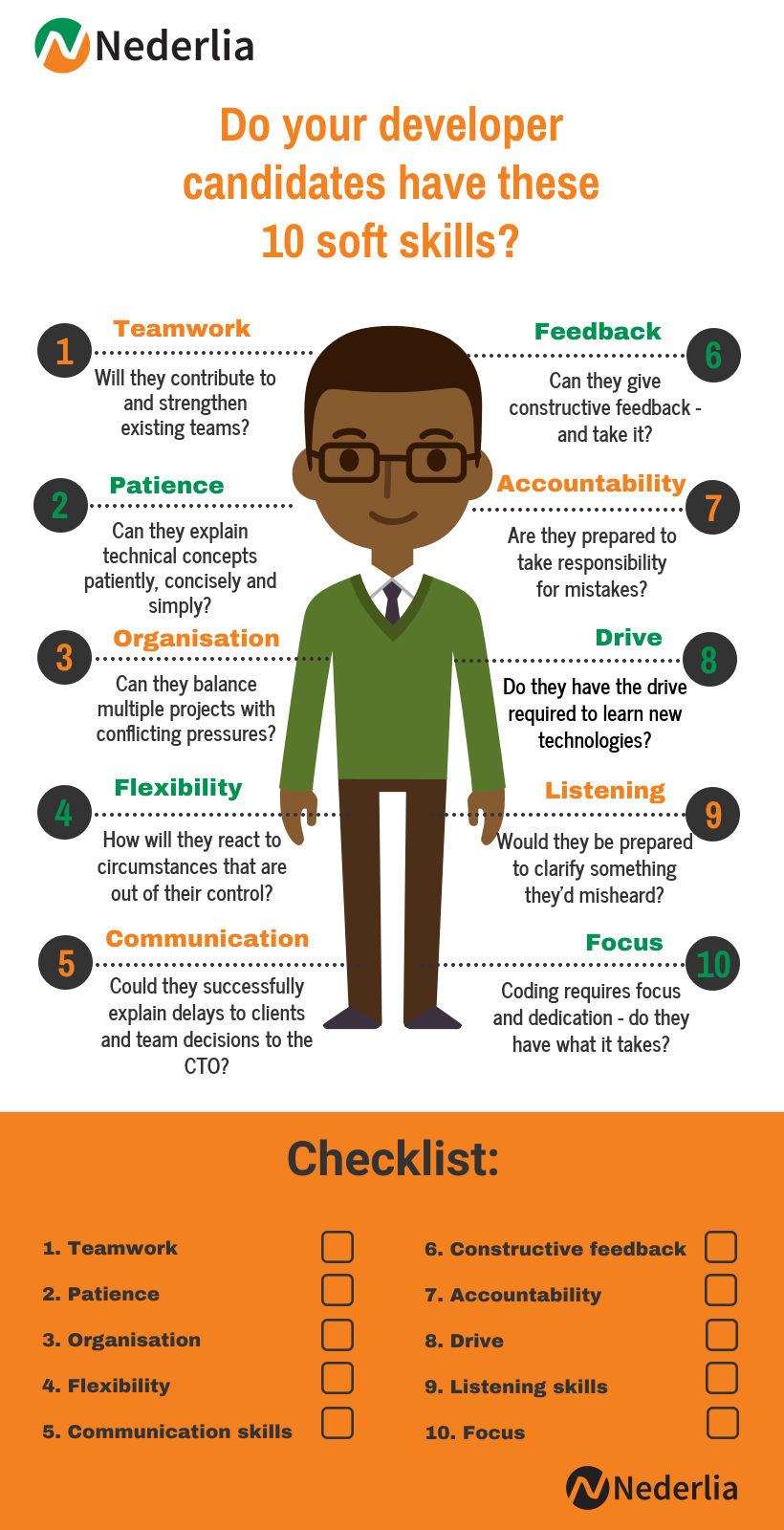 Save our infographic to use as a checklist when you're interviewing developers 🙂
1. Teamwork
New hires should contribute to and strengthen existing teams. Being approachable, helpful and available are key skills that mark out a good team player.
2. Patience
Even the most technically skilled developer must be able to patiently, concisely and simply explain technical concepts to non-techies – whether that's colleagues or clients.
3. Time management
So much code, so little time. When multiple projects with conflicting time delays and pressures are on the horizon, time management & organisation becomes critical.
4. Flexibility
Work sometimes (/often) throws us a curveball. Developers must be able to deal with – and adapt to – unforeseen circumstances that are out of their control.
5. Focus
Anyone who's worked through painstaking errors in legacy code will be aware of the focus and dedication it takes to programme successfully.
6. Communication skills
Whether it's communicating with colleagues, explaining a programming decision to the boss or relaying issues with a project to clients, communication is crucial.
7. Accountability
The quicker errors in code are accounted for, the quicker they can be fixed – whether or not the developer is responsible for the mistake.
8. Giving – and taking – feedback
A good developer should be able to support colleagues' ideas, back up their arguments, give positive feedback – and take it. Accepting constructive criticism is key to growth.
9. Drive
With new technologies appearing all the time, developers need to demonstrate the passion and drive to keep learning outside the parameters of the role.
10. Listening skills
Not properly hearing (or failing to clarify) an instruction or piece of feedback could lead to an error in code that results in significant time delays and even costly reworks.
Still wondering whether your candidate is the perfect fit?
We've compiled the six traits that mark the perfect start-up hire.