Sunday morning, 20th March 9am
Some people are having breakfast, others are having their healthy morning run, some are still in bed, recovering from a party that lasted too long and was too much fun, some mums and dads are waking up to take their children to play football…
Well, Claude Loeffen finds Saturday and Sunday mornings as his most productive moments of the week and on that Sunday he was meeting up with various Barcelona entrepreneurs at Sunday Morning Brunch on Radio FM 107.3fm.
Barcelona's recruitment scene has been changing a lot in the last years and they were all invited to discuss various topics connected to the city, recruitment and jobs. Here are some of topics that were discussed.
Enjoy!
You can listen to the whole podcast here:
https://www.mixcloud.com/TGBradio/sunday-morning-brunch-recruiting-from-tech-talent-to-employeesemployers/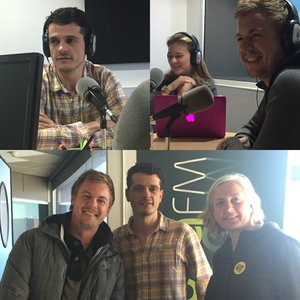 Barcelona has been named "Global Smart City 2015", prevailing over New York, London, Nice and Singapore.
Juniper Research considered that Catalunya's biggest city performed well across subjects like smart grids and smart traffic management. They also took into account information dealing with smart street lightning and the cities' technological capability and social cohesion, among other aspects.
(min 12:40)
Claude, does Barcelona strike you as a city that's progressing that way?
Yeah, definitely. We've been in the European start-up scene for like 4 years now and the hubs have always been kind of London, Berlin, Stockholm, Amsterdam being the upcoming one. But we noticed I think especially since early last year a bit of a change in Barcelona as well as there are more and more start-ups popping up like mushrooms almost. There's more investment coming in so Barcelona is definitely turning into a start-up hub.
Are your clients Global or in Europe?
We deal with candidates from all over the world but the clients we work with are in Europe indeed.
But you are now saying that you are now recruiting here in Barcelona for tech companies…
Yeah so as I mentioned we saw a change since early last year so we've been focusing a bit more on the Barcelona scene and especially also because we've gained a lot of experience in the start-up scene in let's say more of Northern Europe and we believe we can bring that experience also to Barcelona.
And how are you helping them or encouraging them?
We have a large International network of International Tech Talent so to speak. Barcelona itself has more and more companies coming up. All these companies are looking for the same sort of people. There's not enough local talent here so companies are forced to look further, look outside of Spain. And that's when we come in.
Barcelona and Madrid are the cities that are hiring the most in Spain in tech companies and 70-75% of all jobs in the two cities are in tech or start-ups companies.
(min 31:30)
You've noticed this Claude you were saying since the beginning of last year
Yes, it has been picking up quite rapidly actually since and I think it has got to do with the foreign investors who are starting to see Spain and especially Barcelona as an interesting location.
And also cheap to live in and cheap recruiting people (in terms of salaries)…
In terms of salaries yes but that doesn't automatically mean that it costs less to have an employee with social security that you have of course to pay on top. And of course other things but it's still a lot cheaper than compared to London or Stockholm or Amsterdam. I think one of the biggest pulls here is (it sounds very simple) the weather as well. It's nice and it's not the most difficult place to attract International talent to.
And ladies and gentlemen, this was the first part of this interview but…stay tuned! As in the next article we will tell you more about how to attract this "special" tech talent and how we do it here at Nederlia!
#techspotting
…to be continued…
---
Pictures courtesy of Sunday Morning Brunch on Radio FM 107.3fm