Hallelujah, you've finally hired the right candidate.
They're a great cultural fit, have exactly the right experience, negotiated for a higher salary (and got it!) and seem to be enjoying the role. They possess all the traits that mark the perfect startup hire.
Now all you have to do is retain them. Easy, right?
If only.
Like us, you've probably found that it's not only getting harder to hire awesome developers, but also to keep them. It's a competitive world out there, and unfortunately hiding behind the same old strategies, keeping your fingers crossed and hoping for the best just won't cut it anymore.
You need:
a retainment strategy
…that's backed up by research into why developers leave
And we can help 🙂

What is a data-led retainment strategy?
To retain new developers, you need an active approach and a strategy that is continually reviewed and updated. A good strategy incorporates the latest trends and insights, as well as feedback from your current employees. But if you don't have a fully-developed retainment strategy – or any strategy at all – where should you start?
Feeling around in the dark, using a combination of guesswork and intuitive gut-led decisions to retain new employees might work for a while.
But the best strategies start and end with data.
We know they're strange, night-time creatures with a preference for computers over people, but their feedback and insights are kinda essential. (Just kidding – we're all techies here at Nederlia).
Why do developers leave?
We understand that research can be time-consuming, so we've done it for you!
We asked developers why they left their previous jobs – and what you should do to keep them.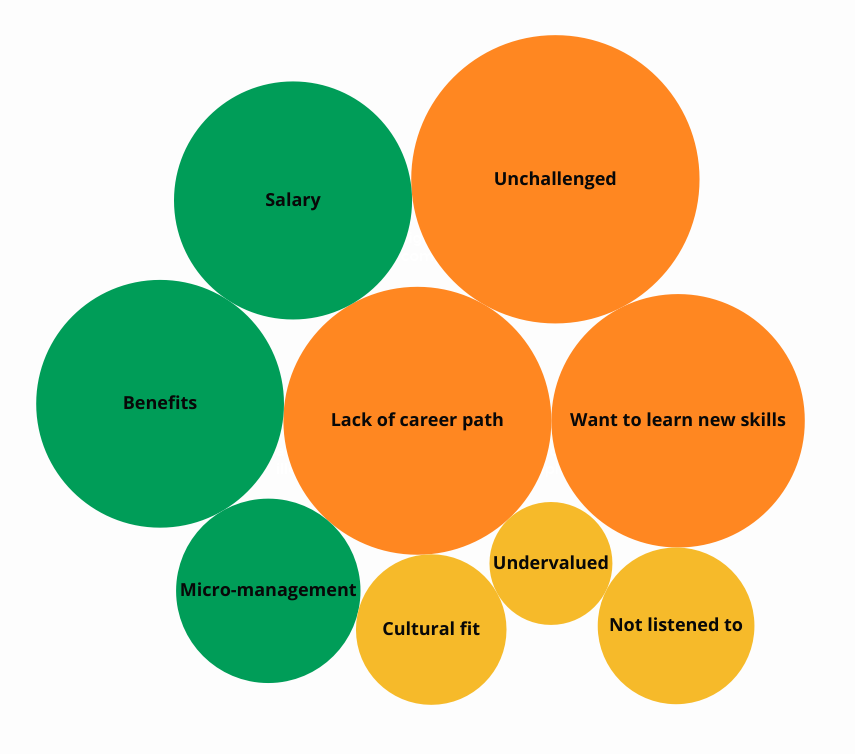 The top 10 reasons developers left their previous jobs:
Felt unchallenged

No opportunity for promotion

Wanted to learn new skills

Benefits weren't competitive

Pay wasn't competitive

Wanted more autonomy and independence

Weren't listened to

Wrong cultural fit

Felt their work wasn't valued

Didn't get on with senior management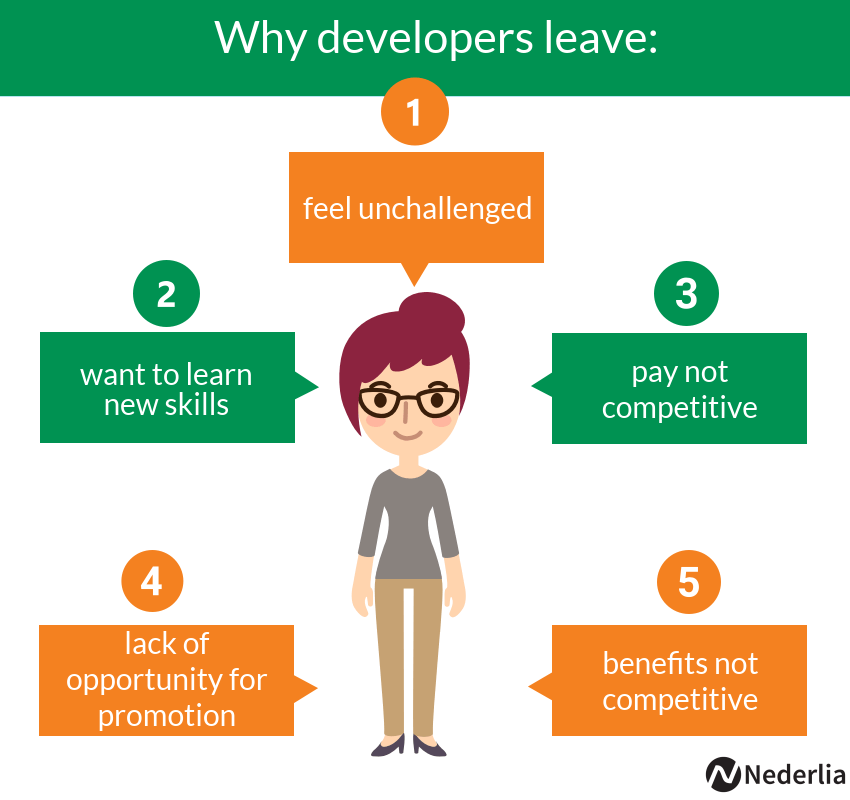 So, what insights can we take from this research?
1. Keep developers engaged
With new technologies being released all the time, successful developers need to keep up-to-date with the latest coding languages and software updates. Providing regular training programmes and new opportunities to learn is in the company's interest, as it keeps employees engaged, skilled and – most importantly – in the job!
As well as scheduling regular performance reviews and opportunities for feedback, make sure you build in opportunities for growth and offer a robust development program.
Developers want to learn new skills
A key motivation for junior developers is staying at the cutting-edge of software development. They want access to the latest and greatest hardware and software technologies, and the opportunity to practice new skills in a collaborative and supportive environment.
Your retainment strategy for junior employees should include opportunities to attend:
in-house training days

hackathons

external conferences

product launches
Developers want to be challenged
For more senior employees, such as Team Leads, Product Owners and Scrum Masters, motivation comes in the form of deepening existing skills and being able to share these skills with others. Not all developers want to lead a team or formally manage junior employees, so think about offering technical leadership instead.
Your retainment strategy for senior developers should include opportunities to:
become tech leads

train new hires

spearhead internal change

learn new programming languages
A key milestone for turnover is the 18 month mark. Developers typically spend a few months getting to grips with the role, learning the ropes and finding their feet. Another year spent deepening their technical skills and they'll probably be looking for a fresh challenge. If they don't find it within the company, they'll think about moving on.
Learning should be an intrinsic and everyday part of the company culture. Crack that, and the rest will follow!
2. Recognise and reward developers' hard work
Developers want the opportunity for promotion
Traditionally, promotion meant a small nudge up the career ladder and a sizeable pay rise. But we're no longer in 1980 – even if Nokia is making a comeback and Star Wars is back in cinemas.
Nowadays, "promotion" looks a little different, particularly for developers who aren't motivated by the opportunity to manage a team. Developers did rank competitive pay as the fourth most important factor in their decision to leave a company, but this came after a competitive benefits package and the opportunity for growth.
Developers want competitive benefits and pay
Employers in flat structures have to work a little harder to "promote" developers, as there will be very few (if any) senior management positions available.
Plus, it's not always easy to match competitors on pay.
…But there's good news!
Even in a very flat tech startup, employees can reward developers by offering:
broader responsibilities

long-term incentives like stock options

bonuses for projects finished on time and within budget

technical leadership 

a larger holiday allowance
Promotion doesn't have to mean moving into the C Suite, or even managing a team, but it does mean recognising your employees' hard work and rewarding it accordingly.

Five steps to help you retain new developers
Congratulations for making it this far – it's been a pretty long post. We've said a lot of stuff about a lot of different things, and we're not even sure we can remember them all. So, we've summed up our research and insights into an easy-to-remember five point list for you to build (or improve) your company's retainment strategy.
What does it take to retain new developers?
1. Engage and motivate new hires
2. Provide technical challenges
3. Create opportunities to learn
4. Recognise hard work…
5. …and reward it!
Header image by Snopek Nadia / Shutterstock.com