We have been using a form of scrum in our recruitment processes for 6 months now and these are some of the great improvements we experienced so far:
Visibility that helps us with making improvements in our processes in a very early stage
Time saving, by scrapping many meetings
increased candidate and client satisfaction with faster feedback loops and delivery
Help with prioritising work load
How did we manage to do that?
Many of you who recruit for Engineering and Product roles are probably familiar with the Scrum development methodology. For those who are not: "Scrum is a methodology that is used in fast software development cycles with frequent releases".
Scrum is widely used by software development teams. In fact according to the 9th Annual State of Agile report, 72% of software teams use Scrum or a Scrum hybrid. Even if it is not clear what Scrum means, it does make you think. Why would so many teams in one of the most fast moving and innovative industries (Technology) use this methodology? Surely it must have some sort of positive impact. Often it's better to copy a good idea rather than coming up with a bad idea yourself, so we decided to implement the very basics of Scrum in our daily work. It's worth testing out at least right?
So we started doing a daily recruitment scrum meeting called the "daily scrum". Meetings are typically held in the same location and at the same time each day. Ideally, a daily scrum meeting is held in the morning, as you will be discussing the tasks/priorities for that day.
During the daily recruitment scrum, each team member answers the following three questions:
What did you do yesterday?
What will you do today?
Are there any delays in your way?
In order to make all tasks and their status in a project visible you need a scrum board. There are many different ways to create a scrum board, but we decided to use the 3 scrum questions and the names of our team members for the project as our structure, see photo below: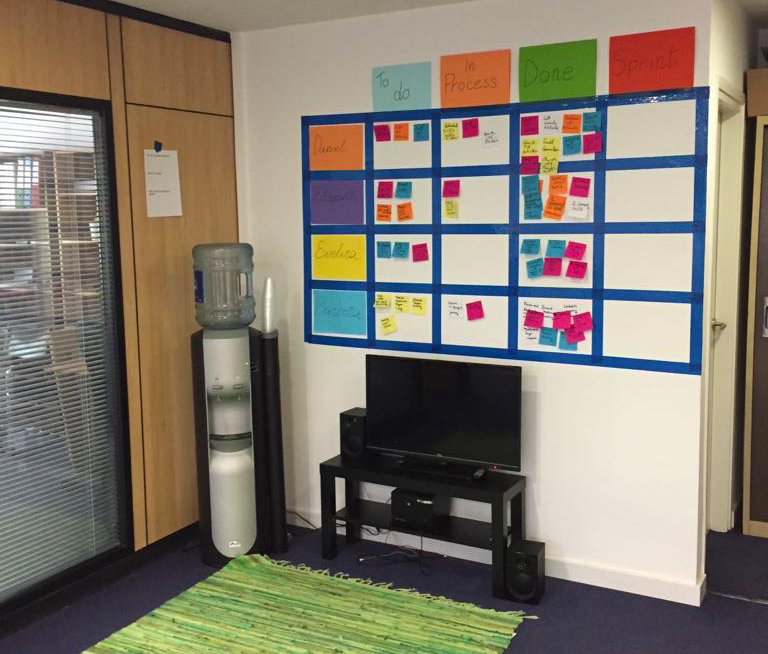 On the first day every team member writes their tasks for that day on post-its and sticks them on the board in the box named "To Do". That could be e.g.: Qualify 2 candidates for the Java Developer position or prepare candidate Joe Bloggs for his interview for the Product Owner position, or discuss offer for candidate Joe Bloggs with client X etc etc.
From the second day every team member starts answering the 3 questions.
All tasks that they managed to do the day before they now move into the box named "Done".
All tasks that they did not manage to do, they move in to the box "In Process".
Of course at this point question 3 comes up, what was the reason for the delay? Any problems that have caused this delay can be discussed offline if they take up too much time.
Throughout the week the board fills up with post-its, moving from left to right. Besides the fact that it brightens up the office it also makes any delays or bottlenecks in your recruitment project visible in an early stage, which gives you the opportunity to make changes in an early stage (small iterations, like in software development).
It also gives us very useful feedback on recruitment processes that we can then share with our candidates and clients early doors rather than 2 months into a project.
Other advantages we found:
You can scrap a lot of meetings, because you have a daily view on the progress of your projects
It helps prioritising work load, as people working in recruitment know how chaotic and busy a day can be.
You give your team members the responsibility of planning their own work day and you allow people to make mistakes that can be tackled in an early stage (great learning process).  
One important tip if you are considering to try it out with your own team. Make sure you communicate very clearly that this methodology is not meant to monitor one's performance. One can easily say he/she has managed to finish a task when that is not the case in reality. This way you are missing out on the real value of the methodology. Remember, it is all about creating visibility.
Would you like to learn more about scrum meetings? Get in contact with us.