What are recruiters already doing to hire more women? 
54% go out of their way to find female candidates by:
Going to women-focused conferences, such as Women in Mobile, Barcelona

Using platforms such as LinkedIn, GitHub, Stack, Entelo

Working with associations and initiatives that promote gender diversity

Going to women in Tech meet-ups

Working on specific campaigns or roles with recruitment agencies
40% have worked in companies that have run specific campaigns to hire more women.
These campaigns included:
Changing the wording in job descriptions

Analysing and removing bias from the hiring process

Empowering and promoting existing female employees 

Attending events, organising meetups and working with non-profits

Working with universities
What steps can recruiters take to hire more women?
There are lots of things recruiters and HR teams can do, right now, to attract and engage female candidates. Importantly, action does not have to involve positive discrimination, lowering standards for women or dramatically changing hiring processes.
1. Include a woman (or two!) on interview panels
In our blog post on startup culture, we discussed the importance of making women "visible" within the company, but they also need to be visible during the recruitment process. 44.3% of the developers we asked believe there should always be at least one female interviewer.
Most of the interviews I've been in were held by men, I would suggest also having a female conduct the interview not just a male.
When there's an panel interview, most of the time the interviewers are all men and the management style is very much male. It would be good to show female candidates that diversity is valued and organise the process in a way they feel appreciated.
If you have female team leads, senior engineers or senior managers, this should be an easy change to implement. And if you don't, perhaps it's worth looking at the gender balance of your company and making some deeper changes.
2. Promote family-friendly policies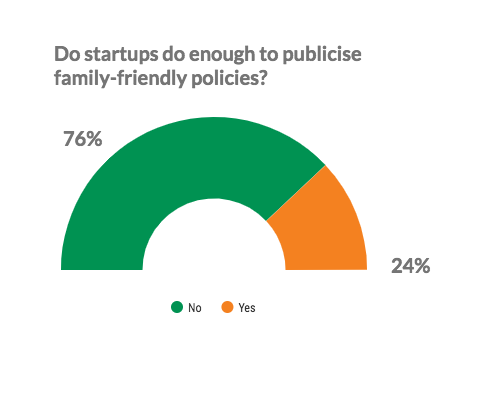 76% of the women we spoke to would be more likely to apply for a job if the company included policies such as maternity leave and flexible working in job descriptions and on careers websites, and discussed them openly during the interview process. 
Startups need to prioritise "transparency for salaries, maternity leave, health insurance, and other company policies which will encourage women to pursue a career and motherhood."
There are certain aspects of jobs that the tech industry could focus on if they'd like to appeal to more women. For instance, a woman with children is probably going to value flexibility and the option to work from home.
3. Change job descriptions
37.7% of respondents believe job descriptions need to be reviewed to exclude words such as "hacker", "rockstar", "competitive" and "expert".
The words used in job descriptions and careers websites influence a candidate's perception of a company, and whether or not they apply. Words such as "hacker" and "competitive" can imply an overly masculine culture. Words such as "adaptable" and "creative" attract women, whereas "ambitious" and "assertive" appeal more to men. 
So think carefully about the way you talk to candidates. You could run your job ads through this amazing gender decoder to check they're gender-neutral.
Amongst other issues, the language is not very inclusive and the requirements are too numerous (resulting in men being hired who do not have everything that was asked, but were not shy in applying).
A lot of the time, women assume they are not as good as their male counterparts, when this is in fact untrue.
Another issue women highlighted was their lack of confidence and reluctance to apply to a job if they feel they don't meet all the criteria. Research shows that men apply for a job if they meet 60% of the qualifications, while women apply only if they meet near 100%. So think about separating skills that are absolutely required from those that are desired, and keep the "required" skills to a minimum. Take a look at our job descriptions if you need some inspiration. 
Here are six more ways you could change job descriptions to hire more women in tech.
4. Be aware of gender bias
I think society perhaps considers a man to be "technically better" than a woman, although they have the same experience.
Some bosses prefer to hire a man over a woman because the man would be more efficient. (He can stay late for work, he doesn't get pregnant or go on a parental leave for a long time…)
Gender bias is probably the hardest aspect of the recruitment process to change. But the bottom line is that we're all biased as a result of our experiences – and unfortunately the AI software we use to screen candidates can be biased too.
But there are some things we can do:
Hold men and women accountable to the same standards in the interview process 
Avoid "affinity bias" – instinctively hiring people that have similar hobbies, went to the same university, etc
Replace motherhood with parenthood

. Ask male employees about their life at home, implement paternity leave and avoid asking women interview questions about their family life as it can imply "are you going to be leaving us to have a child?"
Some of the recruiters we spoke to said they want to pick the "best person for the job", regardless of gender. But what counts as "best" can be biased.
You could write a list of what makes an "ideal candidate" (and make sure it's objective, and based on skills and aptitude). This can help avoid the typical startup mistake of only hiring candidates who are "a good fit".
---
We've created a free guide to help startups hire more women in tech.
From changing startup culture and candidate experience to supporting the next generation, there are lots of simple steps you can take to attract, engage and retain more female candidates. It's time to start finding and hiring more women!