s part of our #pressforprogress campaign, we asked 74 women in tech about their personal experiences in the industry and what – if anything – needs to change. What's clear from the research is that women are not taking up tech opportunities at school, not choosing computer science as a degree and dropping out long before they make it into startups. 
67% of the tech recruiters we spoke to believe that the main reason for the lack of women in the tech industry is the lack of postgraduate female developers.
Computer science is the only STEM field in which the number of female graduates is dropping. Something needs to be done, and it's time for the tech industry to step up.
Why do startups need to support the next generation of female developers?
Women aren't studying computer science
In the 1960s and 1970s, computer programming as a career was aimed at women. Check out this ad from Cosmopolitan in 1967: "Now have come the big, dazzling computers – and a whole new kind of work for women: programming."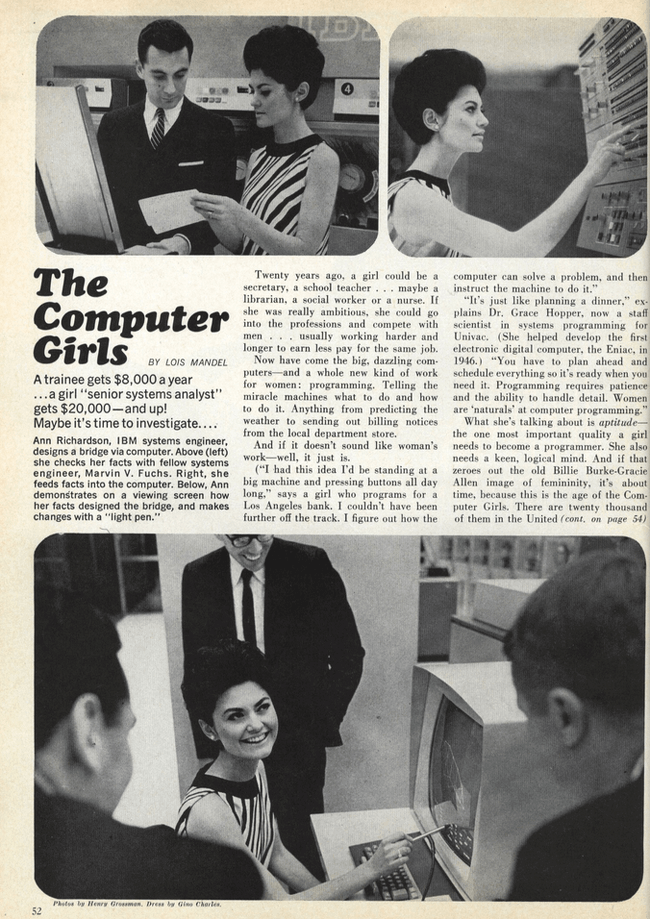 In 1983, 37% of computer science degrees were given to women. But in 2015, this figure had dropped all the way down to 18%. 
And it's not a STEM problem. In 2014, 40-45% of degrees in maths, statistics and physical sciences and 54% of degrees in biology were granted to women. Computer science is the only field in science, engineering and maths in which the number of women receiving bachelors degrees has decreased since 2002.
It was not like this when programming started, what happened?
So perhaps the real question is: what happened in the 1980s to put women off computer science?
1. Geek culture
Firstly, the 1980s was full of awkward, white, male protagonists.
The plots of the first geek culture movies like Weird Science, Revenge of the Nerds and War Games have an almost-interchangeable plot line: "awkward geek boy genius uses tech savvy to triumph over adversity and win the girl." Fast forward 20 years and society's portrayal of programmers hadn't changed – think Mr Robot, IT Crowd and Silicon Valley.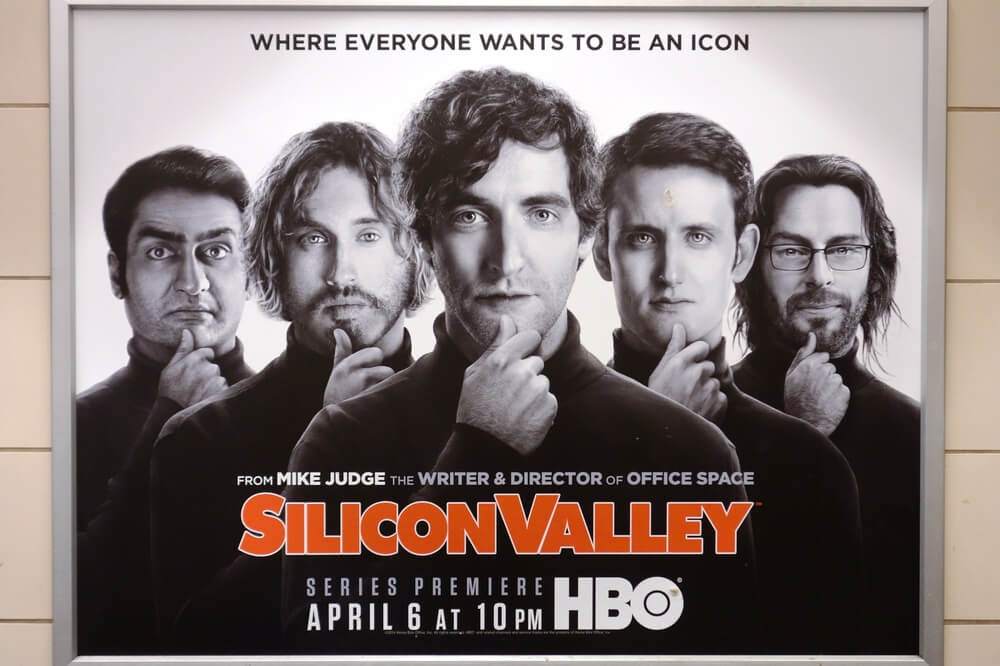 Credit: Shutterstock, EQRoy
"Programming is seen as something that's overtly masculine and geeky. There's this idea that a programmer is a skinny, nerdy hacker who has poor interpersonal skills and works in his basement."
Linda Sax, UCLA's Graduate School of Education and Information Studies
We need to combat the outdated stereotype that engineers are anti-social weirdos.
Preteen and teenage girls need to see the fun and value in tech. …girls are unlikely to spontaneously develop an interest in something that parents and friends / society doesn't reward them for.
2. Personal computers and gaming devices 
Personal computers and gaming devices that shot into popularity in the 1980s were marketed almost solely to boys, while girls continued to receive toys geared towards home-making. The women we surveyed highlighted the influence of toys when they were growing up, and the lack of exposure to tech in general.
Computers have been sold as toys for boys for decades, this needs to change.
Things are changing, however!
Check out Goldie Blox's AMAZING "Princess Machine" video. Their mission: "to show the world that girls deserve more choices than dolls and princesses. We believe that femininity is strong and girls will build the future — literally
It's not just a pipeline problem
If women aren't as exposed to computer games as children or tech opportunities at school, they arrive at university-level computer science classes a step behind, then at interviews lacking the confidence of their male peers.
In 2016, Facebook blamed its 17% female staff on a lack of women studying computer science at university. Sure, there is a lack of women studying IT, but that doesn't mean we should all sit back and feel satisfied with a workforce that's ⅕ female. Where's that pioneering, entrepreneurial spirit, Facebook?
But it's not just a "pipeline problem".
18% of computer science degrees are held by women, but 50% of the recruiters we spoke to believe their companies actually have less than 10% women.
We asked the industry: How can we nurture the next generation of women in tech?
1. Encourage mentorship
Our research overwhelmingly showed that female developers value mentors. Yet there is a lack of women available to provide that crucial leadership.
There should be more women tech leaders and role models, speaking at conferences or giving talks at universities.
Women in tech are not "visible", and startups can help by encouraging mentorship, both internally and outside of the company.
Setting out clear mentorship programmes – and publishing them online – will help nurture the next generation of developers. But they will also make startups more attractive to potential female candidates in the short term.
Because there are fewer women in tech, it's even more important for women to seek out opportunities to pass on the benefits of their experience.
I have always been interested in technology, but a few years ago I listened to Hilda Jenkins speaking at an agile conference; she was very inspiring.
One-to-one encouragement is really important for women. It might be university mentors, advisors, older students… It's hard to be the only female in the room and it's easy to feel like the odd-man-out.
"Not only does mentorship define our career choices, it can have an effect on us throughout our careers. You see these strong bonds forming between men, you see their relationship developing over time, and of course that's something that you'd also want to have with someone that you feel connected to. Women need other women to guide them and help them grow in their careers."
Alexandra Negrut, Software Engineer at NetSuite/Oracle
Alex Negrut's presentation on International Women's Day 2017. How the different types of toys we're given as children contribute to the gender gap in tech.
2. Sponsor or organise events 
There should be more women tech leaders, role models, speaking at conferences, or giving talks at universities.
The developers we surveyed noted the lack of other women in the classroom, university lecture hall and their personal lives. Startups obviously have little control over the amount of coding classes schools run (hint: there should be more!) or the number of women teaching technical subjects. But they can engage students outside of the classroom. 
Startups should encourage female students by giving them support to build female driven/led communities and ecosystems so that they can encourage each other.
We need to engage students outside of the classroom, connect them with and induct them into a community of engineers.
Respondents lacked a sense of "belonging" to a community. But they also lacked the facts – the doors that open as a result of a computer science degree or the amount of money developers have the potential to earn, for example.
Many felt that the opportunity to meet female developers would have been invaluable when they were making their career choices. 
Startup leaders and developers already working in the industry have relevant, first-hand experience. So they're in a unique position to share their knowledge with the next generation. 
"Engaging younger groups is really important. This is why we organized Girls in Lab, for teenagers aged between twelve and fifteen. The best time to approach them is when they're at a point in their lives when they start thinking about what they want to do. People from our office volunteer to take part in these events, and we are hoping that they can become role models for these kids."
Ondrej Juricka, Netsuite/Oracle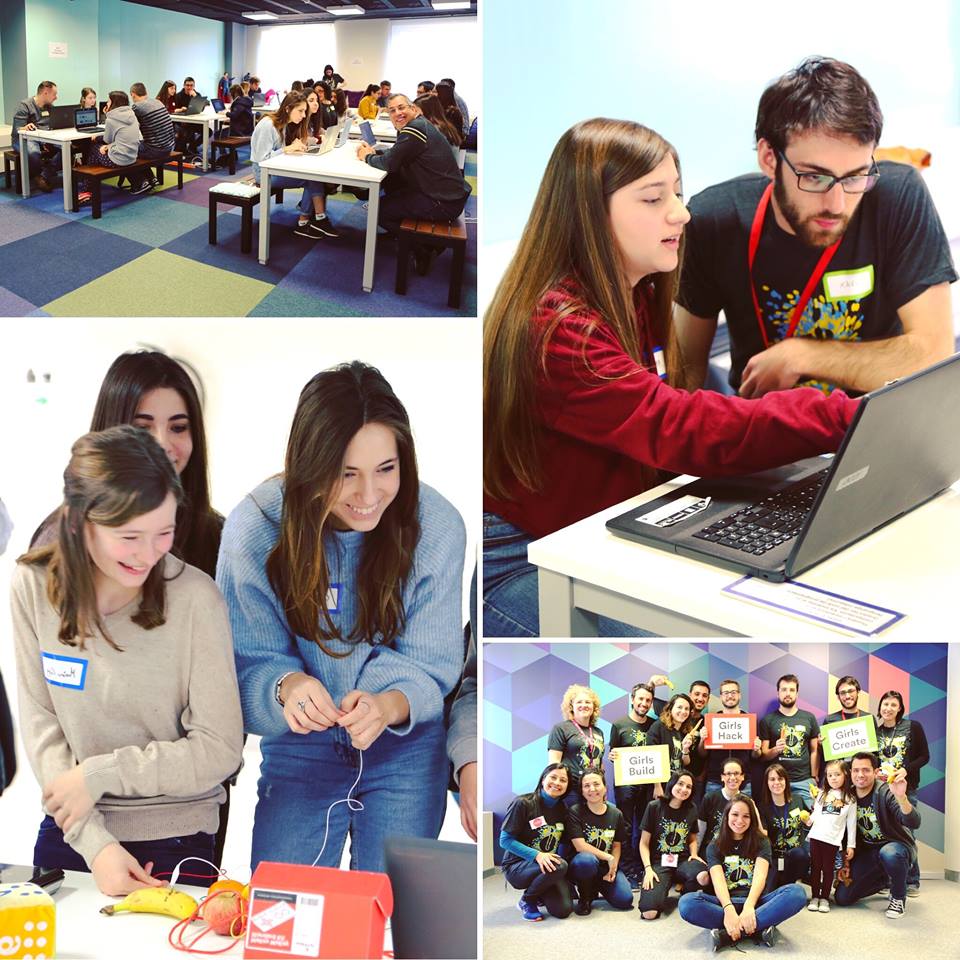 Girls in Lab
Five more ways startups could help nurture and support the next generation of female developers:
Organise internal social events for female employees so they can network, invite a female speaker and continue building the female tech community
Encourage employees to speak at external tech conferences (or even sponsor one!)
Sponsor a prize for the best female student in a relevant course
Help fund university scholarships for women 
Support programs that encourage underrepresented groups to code. Your support could range from a one off donation or fundraising event to becoming long-term ambassadors. Check out:

Girls Who Code

and

She Plus Plus.
The tech industry needs to take responsibility for helping to fill the gaps in the "pipeline," and doing more to hire and retain post-graduate female programmers. And it's easier than you think.
Next up: why startup culture is to blame – and what we can do to change it.
---
We've created a free guide to help startups hire more women in tech.
From startup culture and candidate experience to supporting the next generation, there are lots of simple steps you can take to attract, engage and retain more female candidates.